Slide
Prepare For
Success With Kumon

The World's Leading
Enrichment Programme
*Commence Classes By 20 July 2022
Slide
Prepare For
Success With Kumon

The World's Leading
Enrichment Programme
Prepare For
Success With Kumon

The World's Leading
Enrichment Programme
*Commence Classes By 20 July 2022
Self-learning helps students to become more proactive learners
At Kumon, we place great value on the ability to study independently and encourage students to discover how to solve problems for themselves without asking for the answer.
Through doing exercises on their own, students gain confidence in their studies and develop the desire to advance further. Our Kumon Instructors do not teach students in a uniform manner. Instead, students are guided with hints and examples on our worksheets to attempt questions independently.
Through this process, our students feel a sense of achievement, motivating them to keep progressing to more advanced topics and concepts. Should students feel any particular area challenging or take a longer time to complete their studies, they review their learning to help them master the content and move on to the next step.
How are Kumon students able to learn new material independently?
Kumon Worksheets are constructed in a manner that enables students to learn and progress in small steps from easy to more challenging material.
Explanations and examples are included with new exercises in the introductory sections to enable students to do the worksheets independently and advance to higher levels of study without difficulty.
Our instructors place great importance on students developing the ability to understand the concepts at hand and find the solutions to problems on their own. Students are not given quick answers when they approach the Instructors with questions. Instead, they are carefully guided in a way that enables them to comprehend the learning focus and solve problems by themselves.
Students who can pursue their potential independently
We believe it is essential for children to study content beyond their current education level as soon as possible. Helping students advance toward a higher school level of study while still in preschool, primary or secondary school is an important goal.
By advancing beyond their education level, our students greatly develop their academic ability, influencing how they approach their future studies. This gives students more confidence and encourages them to pursue their full potential.
Equipped with the ability to study proactively, Kumon students are better prepared for success as they strive toward their goals and aspirations with their newfound learning abilities.
Nurturing resilient and dynamic learners
Learning is a lifelong journey. In a rapidly changing world, we want our student to be confident and self-motivated to learn no matter where they are.
At Kumon, students are not taught in uniform method, they are guided to understand the questions and solve problems independently. This helps to develop their determination, independence, and confidence.
With the Kumon Method of learning, our students develop passion for learning, self-discipline and the confidence to overcome obstacles independently to excel in school and beyond.
How Does Your Child Benefit from Kumon?
Each Kumon student's learning journey is individually determined by his/her ability. From preschool to primary school and beyond, the Kumon worksheets will help your child advance incrementally and significantly beyond his/her school grade.
Maths Programme
Maths requires an accumulation of knowledge through practice. While enhancing their calculation skills, students also cultivate their mathematical analysis and logical thinking abilities, which will be indispensable in their lives, now and in the future. This sets the groundwork for solving the problems they will face in life.
Develop mental calculation and reasoning skills

Improve students' problem-solving abilities

Prepare students for advanced mathematics
Language Programmes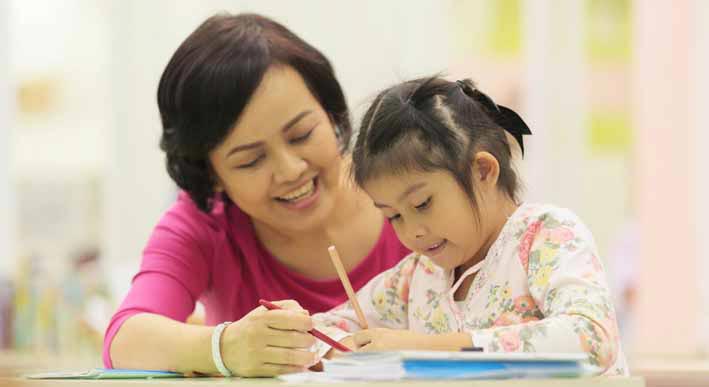 Besides improving students' reading comprehension skills, we aim to nurture an interest in reading – widely and confidently. This leads them to expand their minds, igniting their curiosity to read beyond the lines, think critically, make connections and come to their conclusions – the key to expanding their knowledge and understanding of the world.
Develop reading skills and reading habits

Improve reading comprehension and critical reading skills

Enrich and expand students' vocabulary
The Breakthrough Learning Method Empowering Over 4 Million Students In More Than 51 Countries
Find a Kumon Centre Near You
Our monthly fee per subject programme is BND120.
*There is a one-time registration fee of BND30 payable upon enrollment
Kumon students range from preschoolers to secondary school students. We currently have students as young as three years old studying with us and we help children of any age and ability reach their academic goals. However, we recommend that you enquire first to see if your ideal Centre can accept young children.
With the Kumon Method, students start at the level where they can attain a perfect score studying on their own. This fosters a joy for learning, and instils good study habits.
Gradually students begin to study topics they have not previously learned. Through Kumon, students will be able to advance beyond school grade level independently. This develops their analytical ability, develops perseverance and fosters confidence and a healthy self-esteem.
Eventually, students study far beyond school grade level independently. They will excel in their other subjects as well because they have confidence and are applying the self-learning skills developed through Kumon.
Yes. The Kumon Method is an individualised learning method that supplements the Brunei education system.
For the Kumon Maths Programme, the study goal is the self-study of senior high school mathematics with ease. It focuses on the development of strong calculation skills and, by excluding all unrelated concepts which may be covered in school, aim to allow students to advance as quickly as possible on their own to senior high school mathematics.
The study goal for the Kumon language programmes is to achieve advanced reading comprehension skills and the ability to read widely.
Kumon is an independent self-study curriculum. By studying at a level that is appropriate to the child's ability, the child will be able to advance beyond his or her school grade level without being specifically taught.
Self-learning means that students study worksheets and correct their own mistakes independently. The worksheets have been designed in a way to allow students to figure out how to solve problems on their own. Examples and explanations are clearly provided when moving on to new topics, encouraging students to self-learn and advance independently.
Instructors observe how each student studies, plans and assigns worksheets and motivates the student. When students encounter difficulties, the Instructor assists the students by giving subtle hints so that they will be encouraged to progress and take on further challenges.
Kumon will help your child improve his or her school grade through the academic knowledge and work skills gained through studying topics beyond school grade level.
We're not the world's leading enrichment programme for academic success for nothing. We have successfully empowered more than 4 million students enrolled in over 24,700 Kumon Centres in 51 countries. Read what our students have to say here.
Kumon's individualised instruction differs from one-on-one tutoring services that provide "quick fix" short-term boosts in performance. If your child is a bit behind his/her peers, our short-term goal is to reach grade-level competency within twelve months.
Through Kumon, your child is able to develop reading comprehension ability, strong calculation ability and analytical ability which are the essential abilities in order to solve problem sums.
Behind every successful student is a supportive parent and your child should be able to complete their daily homework independently as each worksheet builds on skills they will have developed at the previous level.
In accordance to the Government's guidelines, our centres are providing the options of remote classes and/or a hybrid-learning approach of in-centre and remote classes to provide greater convenience, safety and assurance for all students who enrol in Kumon.
All you need is an uncluttered table, a pencil, an eraser and a device equipped with a camera and microphone function to continue learning with Kumon at home.
Parent Orientation is mandatory and only available by appointment basis.

Register for Parent Orientation from 27 June 2022 to 17 July 2022.

Classes to commence by 20 July 2022.
Copyright © 2022, Kumon Asia & Oceania Pte Ltd. All rights reserved.